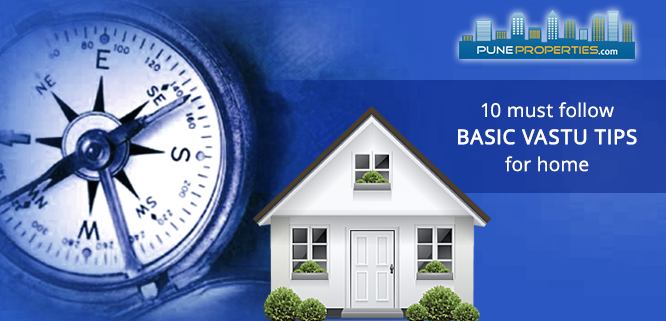 Vastu is an ancient science which is highly practiced for better living. Every corner of the house reflects their energies on you and your family. Though in modern building and apartments proper Vastu is not possible, but there are correctional remedies to suit the house. You can live a blissful life by living in a Vastu designed home, problems are bound to take place, but these following remedies can help you to escape the worst scenarios.
Basic Vastu tips to attract positive energies in your house:
Starting with entrance, place your name plate outside your door. The logic as per Vastu Shastra is, everything enters from the doorway; the nameplate bears the owners name that will help the positive energies to find the owner. If you have an empty wall at the entrance cover it up with a Ganesha statue or picture, Ganesha symbolizes prosperity, it stimulates the energy inside the house.
Did you know that fire has cosmic power? This is because it is one of the five elements of earth. Lighting diyas or essence stick in the morning or evening helps to clear the negative energies present in the house. Removal of negative energy helps to spread the positive energies properly inside the home, thus the negative energies won't have any direct effect on you or your family.
Most of us decorate our living room with pictures and posters; make sure you do not put up any poster which is related to any war scene or uninhibitedness. The negative energies get traced by this kind of images, thus breaking the peace of the house and within the family members. Every family has some issues but when you see the small issues turning into a problem, it means the presence of negative energy.
Place tinkling metal bells at the entrance or windows, the sweet sound of tinkling is said to shatter the negative energy structure. So incoming negative energies will get shattered and the inflow of positive energy can easily prevail inside the house. This method of shooing negative energies is also mentioned in Chinese Feng Shui where they use plastic wind chimes.
The kitchen is the only place from where negative energies affect your health. Try to set up your kitchen in the southeast corner of your house. Your kitchen should have a good distance from your bathroom or bedroom. Ensure you do not store your medicine inside the kitchen, as medicines are directly health related that may have an adverse effect.
The bedroom should be placed on southwest direction. Do paint your bedroom with bright colors as it has a huge impact on energy manipulation and your mood. If you are married use a single mattress for your bed and wife should sleep left side of the husband. Ideally, you should never place a mirror inside your bedroom, but that's not possible so keep it away so that your bed won't reflect.
Bathroom: Did you know bathroom also plays a key role in your home? Any kind of water leakage from the tap reflects on your wallet, unnecessary expenditure rises up. Apart from financial problems, health issues also knock the door, although nothing major is bound to happen but your stress level surely gets affected. Placing your bathroom in north or northwest is the best option.
You should place your study room or working desk at the west, this zone keeps you calm and composed, and your focus level is undisturbed. Else, you can use extreme northeast zone for this purpose. After all, your education and work will effect on your financial status. Do not use bright color paint, use light and soothing colors especially blue or green based, and the room should be well lit. Try to avoid bathroom inside your study. Place the clock on the north wall for better results.
Puja or yagna are performed to keep your house Vastu dosh free. Place your puja room in the north-east corner of your house and never place it in the south even the idols should not be placed in the south direction. Basically, pujas remove all negative energies from your home and also purifies your home atmosphere. Apply white or yellow color on your walls.
If you have a garden, try to place it towards the north and make sure you place a tulsi pot in the north direction for good garden Vastu. Do not grow any small shrub plants like cactus or any thorny plants. You can keep a small water fountain this will help to bring in wealth. Place your sitting area towards north without shade. Keep your parking slot towards the south-east of the plot.
Vastu Shastra is a science of attracting positive and negative energies. Our day starts in our home and night's ends there too, thus keeping the positive energies around us is very crucial for a healthy life. Most of us have heard many stories from owners of many houses that after moving to their new house they are facing problems and they call their beloved pad unlucky. Let me tell you everything around us has meaning things don't take places just like that it occurs by our moves only.