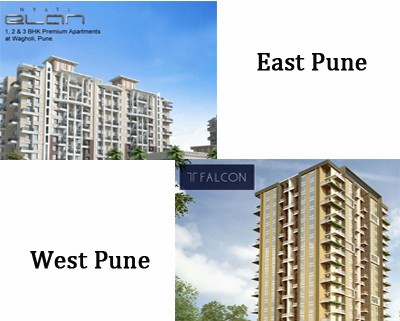 Pune Real Estate market growth is divided mainly into two areas or sides, i.e. East Pune and West Pune. They both have their different advantages direction wise, which gives the buyers the exact things desired.
 Considering the western part of Pune. It is basically covering the suburbs, which provides proximity and easy access to Mumbai through Mumbai-Bangalore Express Highway. If a person goes Mumbai frequently, the best for him is to stay at the Western side. Also, the proximity to Hinjewadi IT Park gives a plus-one to west pune as the IT professionals cannot stay in East Pune and come down every day to west side. The most preferred location by IT professionals working in Hinjewadi is Aundh and Baner. However the construction of six-lane highway from Aundh to Hinjewadi has made west side more preferred. Another advantage is its proximity to Pimpri Chinchwad, which is an Industrial Area, situated at 25kms from Airport.
 Well developed residential localities like Kalyani Nagar, Koregaon Park, Viman Nagar, of East Pune have their own advantages which make the East side preferable also. The proximity from these areas to Railway Station, Airport, Restaurants, Pubs, Magarpatta IT Sector, Malls and every other small things which makes your life a little easier are available in the proximity of these localities in east Pune. Due to these present amenities in East Pune the rates are very high in these areas and so is the growth of the real estate. The East Pune, in past few years, saw a growth so high which broke the records of any other metropolitan cities.
 East Pune has the majority of the city's IT industry developments such as Magarpatta Cyber City in Hadapsar, EON IT Park in Kharadi, CommerZone in Yerawada, Weikefield IT Park on Nagar Road, etc. These IT developments have had a major spin-off effect on the profile of these areas. Over the last few years, 61% of the total private equity investments that have been seen in Pune have been done in projects located in East Pune.
 This is just the brief description of the areas of West and East Pune respectively. Before investing into these areas a person should consider these points and also what the person wants from his/her property if he/she is looking for an investment purpose. It all depends on the choices made by the person in choosing the localities and also the area in which he/she wants to stay, may it be East or West at the end what matters the most is whether the person is happy or not.