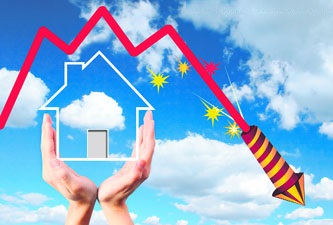 As Pune is cited to be the most desirable location in the real estate market and also Pune's market is said to be on overdrive mode but still due to uncertain economy changes, it's been a tough course altogether. Nonetheless, this festive season is much more counted upon to swallow up the present unsold stockpile and close on a positive note.
It is also said that developers should advance beyond the festive season to keep the market sky-high. While the reports generated for the first half of the year imply the dropping sales volumes and also subsequent decline in new launches.
Pune was among five cities out of 11 which witnessed a positive movement in city index. The three per cent increment in in the Apr-Jun 2015 quarter for Pune is the third highest after Bengaluru and Hyderabad. Also it was added that 77 per cent localities saw a positive growth in the capital values and there was an overall increase in number of active listings. The city saw a two per cent growth in listed price monitor.
Realty market is a sentiment driven market, and also the festive season is the most opt time to launch realty, make sales and gain profit. Festive season is the season when fence-sitting buyers make the final call. Festive season is the most prominent because a lot of offers are also made available to buyers like gold coins, cash discounts in per sq ft, no EMI till possession, waiver for VAT and service tax, zero down payment and special discount for buyers from Mumbai.
Festive season may be promising but developers should also look for market needs like improved living conditions and better infrastructure would definitely increase sales. Also, many infrastructure projects like suburban roads, metro rail project and BRTS project have either been hindered or are moving at a very slow pace.
Next two months are going to be critical for realty market and realtors are geared up, but what matters most is right pricing. RBI governor has already appealed for correction in pricing and rate of interest should go down further. Most importantly buyers must make a decision because this is the right time to invest as the prices are still balanced.